Cardinal Services was established in 1984, by Bud and Gail Freeman in the Coos Bay area ... and we have busied ourselves saving business owners time and money ever since!
Small to mid-sized businesses benefit from having our team of HR professionals provide support and design custom solutions to achieve their goals. So what do we do exactly? We take care of the administrative mayhem that takes up hours in your day- so you can get back to doing what you do best - running your business!!

Cardinal has placed on Oregon Business' Top 100 Best Companies for multiple years now. Long-term Cardinal staff members (average tenure is 9-years) means our dedicated team is here to help for the long-haul. You can count on your Cardinal Team to be here when you need us!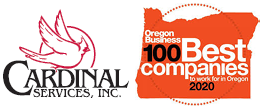 Cardinal Core Values:
Treat people with dignity and respect
Have Commitment: Never, ever give up
Design Solutions through Teamwork and Partnerships
Celebrate Initiative and Enthusiasm
Promote Learning.
You can currently find us at 6 locations in Oregon (Bend, Coos Bay, Eugene, Portland, Roseburg, St. Helens) and our new addition in Eureka, CA - but work with many clients in long-distance capacities throughout the Northwest.
We are proud to have stayed an Oregon based family-run company. Community support and involvement is dear to our hearts - and helping other local businesses thrive is our priority.